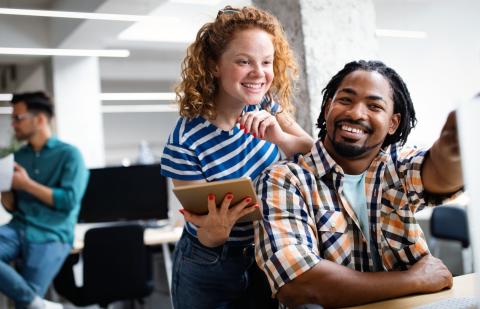 In today's business world, it's not enough to create a great product or have a stellar team. To survive and thrive, you must create a positive company culture that fosters trust, fairness, innovation, and collaboration.
But how do you create a positive and engaged culture where people feel like they're working toward something bigger than themselves and not just punching the clock?
Some companies, such as Microsoft and Google, seem to have found the answer. According to a recent publication by the US Chamber of Commerce, Microsoft and Google are two companies with great work culture. Besides being big tech companies, they're cultivating a sense of trust with their employees.
The Importance of Establishing a Positive Company Culture
One of the major benefits of maintaining positive company culture is earning workers' loyalty. Loyal workers are committed to their jobs. This means they'll likely stay with your company for an extended period.
Besides, a loyal workforce can make your company more efficient, productive, and profitable. A recent publication by HRMorning says that when you support your employees, they're more faithful and motivated to achieve your goals, consequently driving greater business success.
Positive company culture can also lead to greater efficiency in decision making; confident, supported workers make better decisions. In contrast, when employees feel stressed, they struggle to focus on finding solutions to corporate challenges.
A company lacking a positive culture may see a surge in burnout cases. A survey by the American Psychological Association found that of the 79 percent of employees who experienced workplace stress, nearly three in five felt that this stress inhibited their focus and motivation at work, leading to poor decision-making.
Finally, a positive company culture enhances brand perception, which is crucial to business branding. Employees who feel that they're working in a healthy environment are more likely to stay with the company long-term—which means lower turnover costs and higher retention rates. This leads to a stronger bond with your customers.
Proven Strategies for Creating a More Positive Company Culture
The way you feel about your workplace can have a significant impact on your performance and reflect on your company's brand. Below are four proven strategies you can leverage to foster a positive company culture.
Clarify Your Company's Values.
To clarify your company's values, you must ensure that everyone in your organization is on the same page about what's essential to your company and what it means to be part of your team. You should create a list of essential core values and ensure all employees have access to this list.
You can take a cue from Microsoft. The company has a long history of being an innovative company: one of its core values is "make things easy." The company encourages employees to find new ways to make products easier for users, which drives innovation.
Ensure Your Employees Feel Valued.
One of the biggest drivers of positive company culture is employees who feel valued. The best way to do this is to provide them with opportunities to grow and succeed, as well as provide feedback that helps them improve.
For instance, you can try Google's strategy of setting up a "People Operations" department (often called POPS). This department has an entire section dedicated to employee well-being called "People Insights." The team is responsible for researching what makes employees feel valued and appreciated.
Manage Employee Conflicts Effectively.
According to a recent publication by the US Chamber of Commerce, business owners must channel conflicts at the workplace into positive outcomes and not destructive ones. The first step is to identify the source of the conflict. You can do this by determining the cause of the conflict, who or what is involved, and what role those involved play in the conflict. The second step is to analyze the situation by evaluating whether it's worth becoming involved. This means assessing whether the conflict is affecting productivity, costing you money, or creating an unsafe work environment for employees. Finally, you can develop and implement an appropriate solution based on the needed change you've identified.
Cultivate Trust.
The final strategy is to establish trust with employees. Ideally, you'll want to create a sense of community in the office where employees feel safe to ask for help or hang out and discuss non-work topics. Leaders should be encouraged to facilitate open lines of communication and to candidly discuss challenges and vulnerabilities. This will help them feel like they're not alone and have a place at the company. Promote both physical and mental well-being and provide tools for stress management.
The Bottom Line
Positive company culture is key to creating a successful business. By creating an environment where employees feel empowered and valued, you can foster creativity and innovation—which can lead to growth for your business.
Every positive company culture involves safe work practices, proactive risk management, and robust employee benefits. Contact us to learn more about how Heffernan can design a custom insurance or employee benefits program to meet your needs.