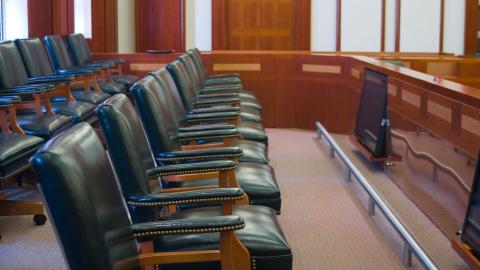 Jury awards are on the rise. While an exceptionally large jury award may sound appealing to the plaintiffs, it's obviously an issue for the defendants involved. It can also be a problem for the insurance companies dealing with larger and larger claims, and by extension, for the insurance policyholders that may face rising rates as a result. The upward trend in jury verdicts is called social inflation. It's a complicated issue with multiple causes, but more and more, it seems clear that litigation funding is helping to drive social inflation.
The Impact and Extent of Social Inflation
Social inflation has been most notable in the commercial trucking industry. The National Association of Mutual Insurance Companies (NAMIC) says that insurance companies first started noticing an increase in commercial auto loss values in 2015. Over five years, the actual and projected loss ratio diverged.
The American Transportation Research Institute (ATRI) says verdict awards against trucking fleets have increased in number and size, and these increases have far out-paced normal increases in inflation. Between 2010 and 2018, verdicts increased 51.7% annually, compared to the standard inflation increase of 1.7% annually and the healthcare cost increase of 2.9% annually.
However, large verdicts are also seen outside of the transportation industry. NAMIC notes several recent awards, including a $51.6 million verdict in Illinois in a case alleging excessive force by a bar bouncer and a $12 million verdict in Georgia in a case alleging permanent brain injury caused by accidental administration of the wrong medication.
The Causes of Social Inflation
Social inflation is often associated with nuclear verdicts, large jury awards of at least $10 million, and often much more. These massive awards tend to make headlines, so they get a lot of attention. For example, in 2021, multiple organizations – including the Florida Times Union – reported on a $1 billion verdict against two trucking companies connected to a crash that killed a teenager.
However, nuclear verdicts are not the only forces behind social inflation. The Insurance Information Institute lists three drivers of social inflation. Nuclear verdicts are, predictably, on this list. Tort reform rollbacks are listed as another possible driver, with a note about eight states that have overturned statutory limits on non-economic damages. The third factor involves class action lawsuits and litigation funding.
The Rise of Litigation Funding
Filing a lawsuit can be expensive, and the costs involved may prevent a person from filing a lawsuit or from launching a successful case. Third-party litigation funding provides a way of overcoming this barrier. A third party with no connection to the claim provides funding for the lawsuit in exchange for a percentage of any financial award.
Third-party litigation funding can make it possible for more lawsuits to be filed. According to Swiss Re Institute, litigation funding has also contributed to larger awards, longer cases, and higher expenses. This can force insurers to raise premiums and reduce coverage capacity, ultimately harming policyholders.
Third-party litigation funding has increased significantly in recent years, and the U.S. has become a hotspot for it. According to the report U.S. Litigation Funding and Social Inflation: The Rising Costs of Legal Liability from Swiss Re, global third-party litigation funding investments increased by 16% between 2020 and 2021, and 52% of all third-party litigation funding occurred in the U.S. in 2020. Furthermore, the increase in third-party litigation funding seems to correlate with an increase in large jury awards. Between 2010 and 2019, the median size of large awards in general liability cases increased by 26%.
Bloomberg Law reports that U.S. litigation funding companies invested $2.8 billion in new deals in 2021. This is an increase of 11% from the previous year, and it can be attributed to increased interest from large law firms.
The Debate over Litigation Funding
Third-party litigation funding has many supporters. Investors may like it because of the potential for large returns, while individuals may like it because it's seen as a way for the "little guy" to go up against large companies to seek justice. However, it has become clear that the trend in litigation funding can also contribute to higher legal and insurance costs.
The U.S. Chamber Institute for Legal Reform lists "fighting against the expansion of the multibillion Third-Party Litigation Funding (TPLF) industry here in the U.S. and globally" as one of its goals.
Regardless of one's personal views on this matter, the reality is that third-party litigation funding and social inflation are impacting the insurance industry. This makes risk management strategies and solid insurance coverage more important than ever. Heffernan can help your business secure the insurance it needs to protect against today's risks. Learn more.