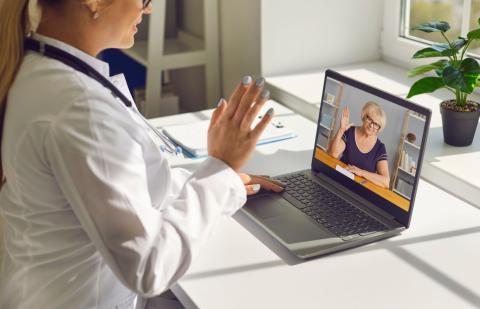 Taking control of workers' compensation costs is a high priority for most employers. Nevertheless, accidents can happen, despite the most vigilant loss prevention practices. In those cases, proactive accident response is crucial and telehealth has emerged as a practical and effective tool.  
Workers' Compensation Is a Concern for All Businesses 
Some sectors are particularly dangerous, but worker injuries are a risk in any industry. According to the U.S. Bureau of Labor Statistics, there were more than 2.6 million recordable cases of injuries and illnesses in the private industry in 2020. Close to 1.2 million of these cases involved days away from work, with a median of 12 days away from work.  
Worker injuries can be costly for employers. According to the National Safety Council (NSC), worker injuries resulted in $163.9 billion in expenses in 2020, a figure that includes medical expenses, administrative expenses, lost wages and productivity, and employers' uninsured costs. The average cost per medically-consulted injury was $44,000. Workers lost a total of 65 million days to injuries in 2020. 
Costs can increase the longer the injured employee is away from work. The National Conference of State Legislatures (NCSL) explains that the probability of a worker ever returning to full employment is closely correlated with the length of absence from work. After six months away from work, the chance that a worker will ever return to full employment is 55.4%. After one year, it's 32.2% and after two years, there's only a 4.9% chance the worker will return to full employment.  
Therefore, a quick recovery is in everybody's best interest – and telehealth can help.  
The Growth of Telehealth in Workers' Compensation  
Back in 2019, Becker's Hospital Review ran an article on the growth of telehealth in the workers' compensation industry. Then the pandemic hit and the adoption of telehealth accelerated rapidly.  
According to a report from the Workers Compensation Research Institute (WCRI), telemedicine became an important alternative for access to care and the use of telemedicine grew significantly in the second quarter of 2020. According to the CEO of WCRI, many expect this trend to continue. The change in medical care delivery may be permanent.  
How Is Telehealth Used in Workers' Compensation? 
Sometimes, it just isn't possible or practical to see a doctor in person. Telehealth provides a solution by allowing patients to receive care remotely, often online but sometimes by phone. According to HHS, telehealth can allow patients to talk to healthcare providers live, facilitate the sending and receiving of messages, and enable physicians to remotely monitor patients. 
The implications for workers' compensation are huge. Consider the following applications: 
Telehealth services can triage claims quickly. According to Risk & Insurance, nurse triage services prevent supervisors from needing to make clinical decisions. When medical professionals handle the claim from the start, things head in the right direction without delay. In some cases, only first-aid or medical only treatment is required. 

Telehealth services can provide mental health support during recovery. Injured workers may experience anxiety, depression, post-traumatic stress disorder, and other mental health issues. According to IRMI, more than half of injured workers experience clinically-related depressive symptoms and mental health can have a significant impact on the duration of the claim. Telehealth provides a convenient way for workers to access the mental health support they need. 

Telehealth services can help patients and doctors stay in contact over the course of the patients' recovery. The recovery process may require physical therapy and other types of ongoing care. Telehealth services keep injured workers on the path to recovery by facilitating communication with providers. 

Telehealth systems can deliver care without adding to time away from work. Going to a medical facility and waiting to be seen can eat up a lot of time. With telemedicine, workers can receive the care they need without wasting time, which can help the employee get back to work faster. 

Telehealth can improve access to care. In a 2021 survey from the American Medical Association, more than 80 % of respondents said patients had better access to care thanks to telehealth. 
Would you like to add telehealth to your workers' compensation strategy? Heffernan Insurance Brokers can help. Our workers' compensation insurance services include telehealth services. We have found that telehealth is a very effective cost containment tool for many of our clients – helping their employees recover and return to work more quickly.