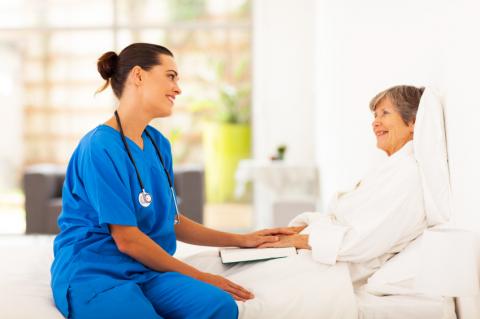 Creating a better quality of life for those who can't care for themselves. It's what you do as a care provider, and you know the need is greater than ever today. As the U.S. population continues to age, the demand for private and professional caregivers, home health aides, assisted living facilities, and other care providers is exploding.
As a caregiver, you face a wide range of potential liabilities every day. Even if you're not professionally licensed or required to carry insurance coverage, you're still exposed to the same risks. You could be physically injured while helping one of your patients. You could suffer long-term adverse physical and mental health conditions due to the physically and emotionally rigorous work you perform. You could even be sued for incompetence, negligence, theft, or sexual harassment.
Any one of these scenarios could turn into a financially devastating endgame. If that happens, what happens to those who count on your services?
To make sure you can continue your vital mission, be aware of every risk and address each one appropriately. Here are some of the most common categories of risks you face:
Patient care environment. Are all indoor heating and cooling, air quality, and sanitary conditions acceptable? What about the safety of the neighborhood? Don't forget injuries from slips, trips, and falls, to both you and your clients. Make safety a top priority and regularly review the patient environment for hazards.
Patient handling. A leading cause of injuries to patients and care providers is the way patients are physically handled. Review all available material on lifting and transferring patients, including the use of assistive devices such as slide boards, rollers, slings, belts, and mechanical hoists.
Pets and animals. Animal bites and scratches are one of the unique risks you and your patients face in a home setting. Even pets that are usually docile can pose a risk, so use caution anytime pets are involved.
Documentation. It's crucial that you completely and accurately document everything. Uniquely challenging circumstances can occur in a home healthcare setting, and it's important to document everything to reduce your liability.
Your risk management strategy should be topped off with the right insurance protection for your unique risks.
Whether you provide care out of your own facility or in your patients' homes, you face a diversity of risks that need specialized insurance coverage, especially insurance for home health care providers. Here are some key coverages you may need to consider:
General liability to protect you from bodily injury, property damage, and personal injury claims
Property to protect your office building, equipment, supplies, media devices, etc.
Commercial auto to protect you if you use your vehicle to transport clients
Malpractice to protect you if you're sued for negligence or errors made while carrying out your services
Workers' compensation if you have employees
Cyber liability if you have clients' sensitive data on your system
Umbrella / excess liability to expand your liability coverage in case of legal action
Renters to protect your personal possessions if you're a live-in caregiver
Life if you take care of children or an elderly parent, since your death could create unexpected expenses
Partner with an industry expert
At Heffernan Insurance Brokers, we're actively involved with industry groups across the country. In addition to insurance for home health care providers, we have developed special insurance programs for allied health centers and senior living communities for leading associations and franchises. Let us give your risks the attention they deserve so you can continue to provide your clients the care they need.