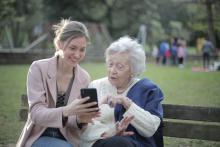 The COVID-19 pandemic continues to cause new challenges for healthcare. In the home health industry, in particular, the virus is creating both direct and indirect risks.
#1: The Risk of Infection – for Patients and Employees
The novel coronavirus is highly contagious, and some patients requiring home health services may have an increased risk of severe illness.
To limit the risk of infection, healthcare agencies should follow CDC guidelines, including screening patients for symptoms, using personal protection equipment, and encouraging sick employees to stay home. However, even with these measures, infection is still possible.
People receiving care in their home may have less exposure to the virus since they are not going to a busy medical facility. Nevertheless, some risk remains. If a home health worker contracts the novel coronavirus, he or she may spread the infection to other patients.
The patients aren't the only ones with risk, either. The home health workers may also contract the virus from patients. If this happens, the worker may file a workers' compensation claim. Some states, including California, made it easier for employees who contract COVID-19 to file for workers' compensation.
#2: The Risk of Care Interruption
Fearful of infection, some patients may decide not to continue receiving care. According to Boston Globe, one company with about 35,000 home care patients received 8,000 cancellations in a week.
While canceling an appointment may protect the patient from infection, it may make other conditions worse. After all, the patient was receiving home health services for a reason, and those reasons don't disappear simply because a new threat has arisen. Disruptions in care could have a lasting impact on the patient's health.
#3: New Risks Associated with Telehealth Services
Telehealth has been seen as a way to reduce the risk of infection without interrupting care. Indeed, the pandemic has contributed to the rapid rise of telehealth services, and this change will likely have a significant impact on patient care and home health risks.  
Notably, CMS temporarily expanded its telehealth benefits in response to the coronavirus, and these expanded benefits may be made permanent. Recently, CMS proposed a rule that would let home health agencies continue to use telecommunications technologies to provide care.
Although telehealth technology has the potential to improve patient care by increasing access, there are risks involved. For example, patient safety may put at risk if care is not consistent or if symptoms are missed. Additionally, if the platform used is not adequately secured, the patient's privacy may be jeopardized. Other risks may relate to licensing requirements and state regulations, especially if care is delivered across state lines. Telehealth providers should review state requirements for patient consent, data privacy, and other issues.
Careful Risk Management is Crucial
The current situation is new and challenging for everyone, but there are resources to help home health professionals manage the risk carefully.
The Home Health Insurance Team at Heffernan Insurance Brokers is here to help your business survive the effects of this pandemic. Our Coronavirus Resource Center provides information to help you navigate the pandemic. If you need additional risk management guidance or have questions about your insurance coverage, contact us.