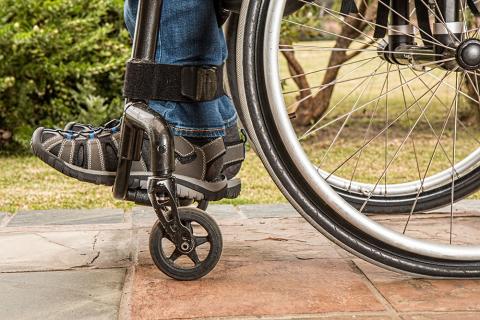 Of course, you know that disability is a serious issue, one that impacts millions of people. But have you stopped to think about how it could affect you or your team?
A person born in 1997 has a 26.8 percent chance of experiencing a disability before reaching normal retirement age, according to the Social Security Administration. This means that approximately one out of four of today's young workers will become disabled at some point.
In addition to serious health problems, people who experience disabilities may also suffer severe financial consequences such as mortgage foreclosure or bankruptcy. Disability insurance can mitigate the financial impact – but only if employers and employees know about this important product.
For Employers 
If you're an employer, take a moment to look at your workforce with the odds of disability in mind. Approximately one out of four adults will experience a disability during their careers. That's one out of four of the people you're working with. If you could help them, you would. And you can – by offering disability insurance.
Offering disability insurance is more than a great way to help employees prepare for the risk of disability. It's also a great way to attract and retain top talent.
Like life insurance, disability insurance can be provided as an employer-paid or employee-paid (voluntary) benefit. Guaranteed issue policies give all your employees the chance to obtain coverage, even if they have health problems that would normally lead to denial of coverage.  If you'd like to educate your employees about the risk of disability, DisabilityCanHappen.org has many great resources.
For Employees
Take an honest look at your finances. If cancer, back injuries, mental health issues or other disabilities kept you away from work for months or even years, how long would you be able to financially sustain?
And if you're counting on Social Security disability benefits to provide for you if anything goes wrong, you might be in for a rude awakening. The majority of initial Social Security disability benefit claims are denied, and while you can appeal the decision, doing so is a lengthy process. According to the Washington Post, because of staffing shortages, the average wait is currently 600 days.   
This is why disability insurance is a crucial element of every financial plan.
If your employer offers coverage, that's a great place to start. However, keep in mind that group policies typically only provide about 60 percent of your regular income and the employer-paid benefit is taxed. On top of that, you can lose coverage if you change jobs. In some cases, an individual disability insurance policy may be a better fit or a good way to supplement your employer-sponsored coverage. 
Educate Yourself
Think you already know a lot about disability? Take the Council for Disability Awareness's (CDA) Disability Awareness Quiz and put your knowledge to the test.
If you get any questions wrong, spend some time at the CDA's site learning about the common causes of disability and some shocking disability statistics.
Interested in learning more about your disability insurance options? The Heffernan Insurance benefits team can help with both group and individual plans.