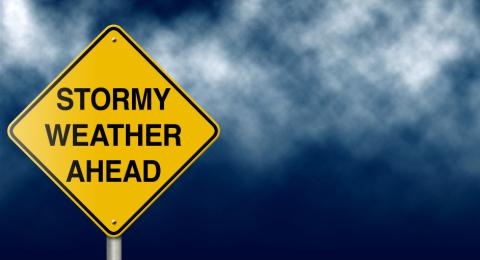 The bets are in: this winter's El Niño could be one of the strongest in the past 50 years. That's the prediction of scientists and climatologists from The National Oceanic and Atmospheric Administration (NOAA), NASA, and online weather sites such as AccuWeather.com.
According to the experts, this El Niño could rival the 1997 event, which wreaked havoc across the globe. It claimed 17 lives and caused more than a half billion dollars in damage in California alone. But will this year's El Niño be enough to reverse California's crippling drought? Probably not, but it should bring some temporary relief to some areas.
Meanwhile, it's hurricane season on the other side of the continent, and NOAA's 2015 Atlantic Hurricane Season Outlook cites a 90 percent chance of a below-normal hurricane season. But of course, Mother Nature can be fickle.
The weather may be unpredictable, but one thing is indisputable – severe weather events happen and always will, and adequate preparation is your only safe port in a storm.
Severe weather events bring with them a host of logistical, safety, and Human Resources challenges. Unfortunately, too many businesses aren't prepared for those challenges, and 40 percent of businesses affected by natural disasters never reopen according to Ready.gov.
Big or small, you need a plan.
While big businesses generally have an extensive risk management strategy, that's not always the case with small businesses. Many don't have a business continuity plan in the event of a weather emergency. But Mother Nature doesn't discriminate, so you can't afford that kind of ambiguity. There are many steps to preparing for a disaster, but dividing them into three stages can help you make sure you're covering all the bases:
Mental. The first step in addressing risk is to be aware of it. Be familiar with the types of weather events your business could be exposed to. Conduct a business impact analysis and assess all potential liabilities. Identify critical assets and operations, including services such as electrical, water, gas, and transportation. Have an emergency response plan that establishes procedures for communicating with employees, shutting down operations, and protecting equipment and records. Finally, have a clear plan for business continuity and how you'll restore operations after an event. Put disaster preparedness front of mind in your company with planning, information, and training.
Physical. Consider all of the emergencies you might face in extreme weather such as structural damage, power outages, flooding, or building collapse. Make sure all outdoor items such as signs, heating and cooling units, and satellite dishes are secured; always use surge protectors for computers and other office equipment; keep vital documents in a safe place; and back up your data and software regularly. Have an emergency kit with items such as First Aid supplies, battery-powered radios, flashlights, nonperishable food, and bottled water. Set up a phone tree, email list, or other method of communicating with employees, and keep emergency contact numbers accessible. Being physically prepared can make any emergency less traumatic – and less costly.
Financial. If your business sustained catastrophic damage from severe weather, would you be able to survive the extended disruption to your operations, loss of income while your premises are unusable, and all the ancillary costs? The costs of cleanup, repairs, and rebuilding could quickly eat into your business profits and your personal finances. Carefully review your business insurance coverage for any gaps, and don't forget to consider flood insurance.
No matter what Mother Nature has in store, the business insurance experts at Heffernan Insurance Brokers can help your business and your bottom line weather any storm.