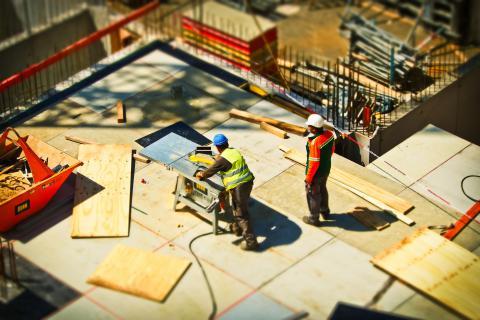 To stop the spread of COVID-19, we're being asked to practice social distancing. For many people, this means staying home. Some workers are essential, however, and they still need to go to work. In California, this includes many construction workers. As a result, construction workers must continue to observe normal safety standards while also thinking about social distancing and coronavirus safety.
California's Stay at Home Order
California Gavin Newsom issued a stay at home order on March 19. The state-wide order, which is in place until further notice, "exempts activity as needed to maintain continuity of operation of the federal critical infrastructure sectors, critical government services, schools, childcare, and construction, including housing construction." Some cities and counties may have additional orders in place.
According to MarketWatch, policies exempting construction from stay-at-home orders have led to some confusion and controversy. Boston Herald reports that thousands of carpenters and painters in Massachusetts are refusing to work due to coronavirus risks on construction sites.
Nevertheless, many construction projects appear to be continuing in parts of the country, including California.
Construction managers should check with state, city and county orders to ensure that their projects are exempted from the stay at home order. They should also determine whether their various projects truly qualify as essential, or if it would be better to put things on hold for the moment. This is a developing situation, and new restrictions and guidelines may be put in place.
Social Distancing on the Construction Site
For construction operations that continue, safety is essential.
OSHA considers construction a high-hazard industry, noting that "Construction workers engage in many activities that may expose them to serious hazards, such as falling from rooftops, unguarded machinery, being struck by heavy construction equipment, electrocutions, silica dust, and asbestos." These dangers continue to pose a threat, and construction managers and workers must continue to follow all OSHA regulations for safety.
At the same time, consideration must be given to COVID-19. Employers and managers should refer to OSHA's Guidance on Preparing Workplaces for COVID-19 and the CDC's Interim Guidance for Businesses and Employers to Plan and Respond to Coronavirus Disease 2019 for guidance, but some key points include the following:
Discourage workers from sharing phones and equipment when possible and disinfect frequently touched surfaces regularly.
Encourage good hygiene. This includes covering your mouth when you sneeze or cough and washing hands with soap and water. Hand sanitizer that is at least 60 percent alcohol can be used if water is not available.
Employers should also prepare for the possibility of absenteeism. Workers should not come to work when they are sick, and workers who show up for their shifts when sick should be sent home. Workers may also need to stay home to take care of family members or because they are considered high risk and are worried about catching COVID-19.
Under the Families First Coronavirus Response Act, covered employers, including those with fewer than 500 employees, must provide paid leave for certain reasons related to COVD-19. This law is in effect through December 31, 2020. 
Need risk management assistance? Contact our Construction Insurance team.