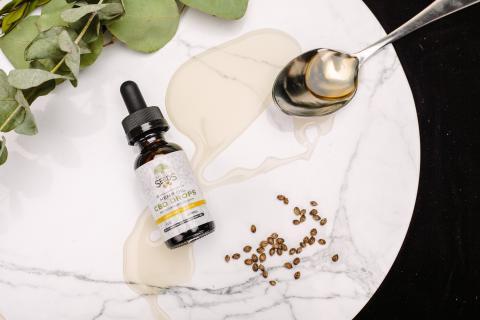 CBD products are hot items right now. You can find them everywhere – grocery stores, garden supply stores, nutrition stores, farmers' markets, pet stores, and of course, head shops.
The industry shows no sign of slowing down.
According to the Brightfield Group, a cannabis industry analyst, the CBD industry is expected to be worth just over $5 billion by the end of the year, an astounding 706 percent increase since 2018. The market is predicted to be worth as much as $22 billion by 2022.
What is this magic drug?
For the unindoctrinated, Cannabidiol (CBD) is a non-psychoactive compound of cannabis. Consumers have been drawn to it in recent years for its alleged therapeutic benefits for all kinds of ailments. CBD is being used to ease chronic pain, anxiety, depression, sleep disorders, chronic headaches, and the effects of cancer and autoimmune disease. Many patients are even replacing their prescription and over-the-counter pain meds with CBD.
Are CBD products a sustainable opportunity or a risky fad? After all, the market is new, and the science is far from settled.
The CBD craze has come on fast, and many independent pharmacies are finding the niche very profitable. CBD suppliers have had clients earn as much as $30,000 in a month.
But behind all the hype, there are definite risks you need to be aware of before you dive in.
First, it's like the wild west out there. Numerous companies have entered the market with their own CBD products – and their own fantastic claims. But do those claims hold up? Sometimes yes, often no. In a 2017 study published in the Journal of the American Medical Association (JAMA), 69 percent of CBD products purchased online were mislabeled, containing more or less ingredients than advertised. The FDA has even warned companies to quit making unsubstantiated claims about CBD's benefits.
There is evidence cannabinoids can be effective in improving certain conditions. But the fact is, science is still playing catch-up on CBD. While research is ongoing and increasing, there's still no conclusive clinical evidence to substantiate the claims.
Thinking about selling CBD products? You MUST take this crucial step.
If you plan to sell CBD products, do your research and carefully screen any suppliers. Require your supplier to provide a certificate of analysis for each batch of products to verify purity and THC level. Find out where the product was grown. Purchase only from suppliers that get their CBD from hemp cultivated in accordance with federal regulations. Ask to see the supplier's license.
In other words, know what you're getting and who you're getting it from.
Without this crucial vetting process, you risk selling inferior or even dangerous products. That could put you at serious risk for liability claims, lawsuits, fines, and reputational damage.
As a pharmacist, you have something other retail outlets don't – a reputation as a trusted source.
People trust their neighborhood pharmacy for education and guidance about their health. Nearly everyone takes at least one prescription medicine, and people want to know how CBD will interact with their regular prescription drugs. That knowledge is something those other retailers don't have, so you're uniquely situated to fill this niche.
What does the future hold for CBD?
There are still so many scientific and legal variables, anything could happen. Science could debunk the claims and put the industry in a nosedive, or it could confirm the claims and send the industry skyrocketing.
Bottom line: if you plan to jump on the CBD bandwagon, be informed and protect yourself.
Ready to partner with an experienced insurance professional to help you manage your unique pharmacy risks? Contact us today to learn about our Pharmacy Owners Insurance program.